The Kansas City Zoo provides a unique day trip for families. A few zoo insider tips can help guests plan a fun-filled day.
The Kansas City Zoo is a great place for a family-friendly day trip. To plan a visit, check out the online zoo map for the list and location of all animals on display. The KC Zoo offers several shows, including keeper chats, so don't forget to plan the day around the showtimes.
We arrived at the zoo right at the opening. I handed them our ticket and they handed us a map and off we went! First, we were greeted by a polar bear that was rather entertaining to watch swim around. Then we went off to Australia. That was one of the nice things about this zoo. They had things set up in regions and you always knew where you were entering. Right away I was impressed with how clean the zoo was, the nicely shaded walkways, and the signs telling you what you can find where.
They had so many fun things to look at and explore. I wish I could show you all of our pictures that I took. They had a kids' area that they could explore. It was 2 levels and the kids could get down to the second level by going down a slide. Just everything was very much- interactive shall we say. I loved that no matter what animal you looked at you can learn about it either by informational facts or from employees who came out and talked about that animal. My kids were able to touch some sort of snake, a leopard tortoise and we watched them feed the hippos! To help you view all these wonderful things you can either take a boat ride around Africa, ride a tram, or take to the sky on their Skyfari (ski lift type thing).
They had so much to see and do. I was truly amazed at how beautiful and interesting the zoo was. But our biggest highlight was something unique. See at our zoo in Omaha, we have peacocks that walk around, whereas here; their peacocks are in cages and they have Kangaroos hopping out in the open!
Overall I highly recommend visiting the Kansas City Zoo if you are ever in town. It is really worth it and provides so much for the kids!
Kansas City Zoo Insider Tips
Bypass the initial displays. The river otters take the stage at the entrance to the zoo, and just around the corner guests will find a fun sea lion display. Since these are so close to the entrance, though, it may be a good idea to save them for the end of the day. This will help avoid missing out on favorite animals that are farther away from the entrance. Besides, it is a good place to rest before making the trek through the parking lot.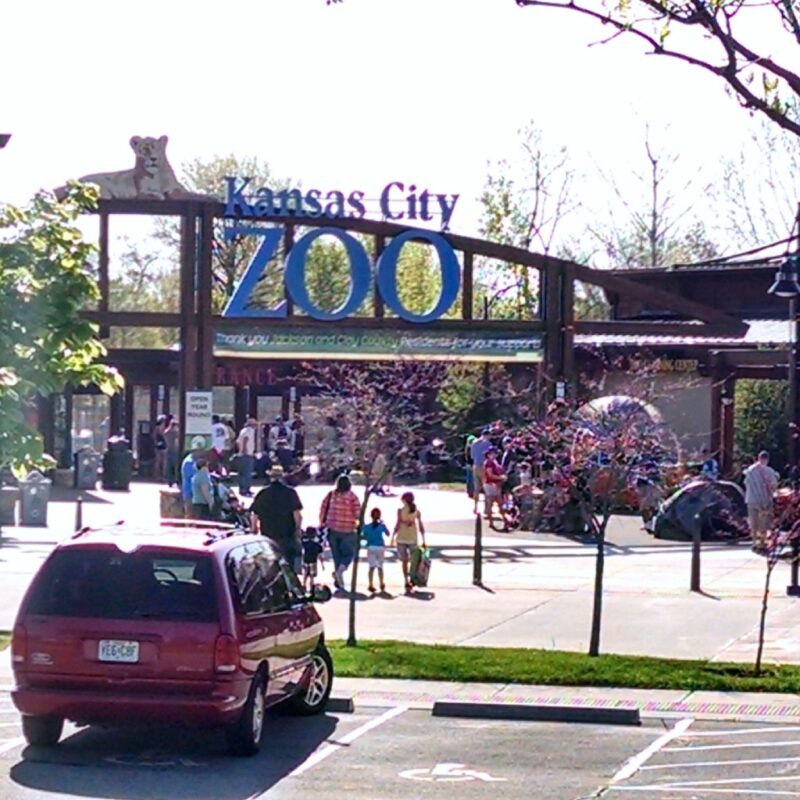 Start in Africa. Kansas City Zoo has a large African display, which includes animals, such as elephants, cheetahs, hippos, zebras, giraffes, and gorillas. The display is stretched out over more than two miles of trails, which is why the KC Zoo recommends guests may want to start the day with this attraction first. Otherwise, guests may find themselves too exhausted to visit all of the displays at the end of the day.
Afternoon Breaks to Eat and Cool Off
Take a lunch break. After visiting the African display, kids will most likely be ready for lunch. Guests can eat at the Beastro, the Carousel Café, or Rafiki restaurant. The zoo also allows guests to bring their own picnic lunches.
Take a break to play. The Discovery Barn is located near the Carousel café. An animal display nearby includes llamas, sheep, and goats. Inside, kids and adults will enjoy the air-conditioned display of macaws, lemurs, and meerkats. Kids can ride down an indoor slide and climb on the huge Peek-a-Boo tree outside.
End of a Great Zoo Trip
Wrap up the day in the Outback. The path from the barn leads to the zoo's Australian exhibit, which includes an up-close and personal look at the popular kangaroos. Right around the corner, guests will find the Asian display with tigers, orangutans, and red pandas.
Saving the best for last. In 2010, the Kansas City Zoo welcomes the arrival of the much anticipated polar bears. The exhibit is near the entrance and makes a great end-cap to a full day at the zoo.
The Kansas City Zoo provides a great day trip for families. With all the KC Zoo's wild animals, there is always something new to see.
Tips for Family Zoo Trips
Trips to the zoo can be a lot of fun, but also tiring when taking small children. Try these tips for making the trip more enjoyable.
Many cities across the United States boast of wonderful zoos, and families sometimes buy membership cards so they can visit often. Zoos are a wonderful idea for a day trip, and if well-prepared, parents can make these outings enjoyable and filled with good memories.
Check Zoo Web Sites for Daily Schedules
It is always a good idea to visit the website of a zoo before heading there for the day. Many zoos in large cities have helpful websites that offer information about exhibit guides, educational programs, showtimes, and special events. This is a very user-friendly, comprehensive website and well worth visiting before making the trip.
By perusing zoo websites before the day of the trip, parents can choose which exhibits they would like to visit and avoid wasting time upon arrival.
Pack Appropriately
Most families choose to visit the local zoo when school is out, which means it's summertime. Summer temperatures can be unbearable, so it's always a good idea to be prepared. Here are some things to keep in mind when heading out during hot days.
Dress children appropriately. Little bodies tend to get hot quickly, and if they are miserable everyone else will be, too. Bring an extra change of clothes, sunglasses, and hats. Don't forget the sunscreen!
Bring lots of cold, iced-down water. Most zoos will not sell drinks with straws for fear of them being dropped and ending up in the animals' mouths, so parents should remember this and refrain from bringing anything with straws. Water in squeeze bottles or sippy cups is a better choice.
If bringing a baby, pack the diaper bag wisely. A day at the zoo can last a long time, so parents should make sure to pack plenty of diapers, bottles, pacifiers, extra clothes, and food. Strollers or wagons are always a good idea.
Be prepared! The idea is to pack just what is needed, not extra items, so the day is spent enjoying the animals and not lugging around overstuffed bags.
Most zoos have cafes, but the prices can be expensive and the lines can be really long. Rather than waiting in long lines with hungry toddlers, try bringing lunch from home. Here are some guidelines to follow:
Let each child suggest at least one thing to bring. This will avoid screams of, "No, I don't want any of this!" when it's time to sit down and eat.
Pack healthy choices and try to avoid foods that are messy or will melt. Choose sandwiches, fruits, pretzels, and raisins. Try to pack things that will keep in a small cooler.
Snacks are a good idea, too, for mid-morning stops and after lunch. Children tend to eat small "meals" throughout the day, and those pretzel stands can become tempting. Parents should have alternatives on hand!
Make a Game of It
Although small children generally love to see new animals, older kids may complain about seeing the same thing over and over again. To keep older kids interested, parents can spend a few days before the trip encouraging them to learn about the animals they will be seeing. Print out information sheets about various animals to take along, or a list of questions for kids to answer while walking through the zoo. The child with the most correct answers can pick a place to go for ice cream after the zoo or pick out a special souvenir at the gift shop. Besides making the day more interesting for older kids, this activity will also help them learn more!
It always pays to plan ahead. By planning accordingly, thinking of ways to make the most of the day, and taking advantage of zoo resources, parents can make trips to the zoo memorable family events.