The Shoji Tabuchi Show, now in its 34th season in Branson,  is truly one of the hottest, must-see attractions in town. In fact, no trip to Branson is complete without experiencing the pageantry and magic of this extraordinary musician, easily recognized as one of the greatest entertainers in the world.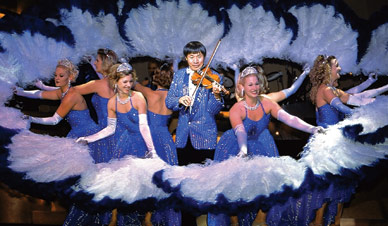 A long way from his native Osaka, Japan, Shoji is truly living his life's dream…inspiring others who desire greatness in this land of opportunity. "I feel lucky…my dream has come true," he says with joy. At age 7, Shoji, a product of the Suzuki Method of music, which trains through imitation, began the music career that would ultimately lead him to the big stage and bright lights in Branson. Big on dreams, but short on cash, Shoji waited tables when he first came to America, all the while dreaming of one day performing the country music he grew fond of in college. Shoji's curiosity about American country music led him to a Roy Acuff and the Smoky Mountain Boys concert, which would be a turning point in his life and career.
Today, Shoji continues to honor his heritage in his shows through an exhilarating section that celebrates the ceremony and traditional music of his youth, which he performs on the taiko drums. Year after year, he continues to astound and enchant audiences from all over the country with a delightful combination of his unmatched musical finesse and his wife, Dorothy's, dazzling stage presentations as the show's producer and director. The couple's daughter, Christina, also performs in the act.
The show has always been exquisite and glamorous, and rivals any big-city production. However, Dorothy continues to expand and perfect every detail for the guests' ultimate entertainment experience. This season, she and Shoji have taken the show to yet another level of presentation mastery.  From the stunning costumes, professional dance numbers and stage sets to the rousing, foot-stomping and often inspirational music, the Shoji Tabuchi Show is a two-hour investment in performance brilliance that reaps great musical and emotional rewards.
Shoji sends his regards to Broadway with a spectacular tribute section featuring hit musicals, such as Oklahoma, Hello Dolly, The Sound of Music, Mary Poppins, and My Fair Lady. A "Salute to America" takes visitors on a journey from state-to-state with songs like "Kansas City," "Tennessee Waltz" and a selection of Hawaiian songs. Shoji also performs a popular Elvis segment. Christina lends her voice and talents to many musical numbers. Brimming with other outstanding spotlights on time periods filled with beloved and memorable music, the show is a non-stop adventure like none other. As always, no Shoji production would be complete without an ovation-worthy finale. The program culminates with moving renditions of "America the Beautiful" and "Coming to America," Shoji's personal tributes to reaching the pinnacle of your life's dreams. One thing is certain…you will not leave this show the same.
For more information, call 417-334-7469 or go online – www.shoji.com. Dorothy and Christina Tabuchi appear on select dates only.
Shoji Tabuchi Show
3260 Shepherd of the Hills Expy.
417-334-7469
Some Things You Just Never Forget! The Shoji Tabuchi Show features superb family entertainment with one of the world's greatest entertainers! Electrifying production numbers created by his beautiful wife Dorothy are unforgettable. Daughter Christina, a delightful show-stopper, is adored by her fans. The must-see show. (Dorothy and Christina Tabuchi select dates only.)