With new flights to Branson on Southwest Airlines and a reputation as one of America's premier live concert cities, Branson can no longer claim to be undiscovered. Yet, the city has much to offer aside from its legendary performance halls. Balmy summer evenings, fun-filled days of fishing on nearby lakes and reservoirs as well as convenient golfing options are all within your reach here. Above all, you'll find Branson to be a spot where time slows down, where you can hit the snooze button to your heart's content and where you and your scattered family members can meet for that reunion you've been wanting to plan for years now.
Today's Branson also offers a little peek into the country's not so distant past. Where else can you enjoy fine wine and cuisine on a riverboat after a day at a 19th Century inspired theme park before taking in a show?
Unique History of Branson
Originally the home of the Osage tribe (or the 'Whashash' or 'Whazhazhe'), the Ozarks provided ample opportunities for hunting and farming, wooded forests for building longhouses, and rivers for fishing.  Evidence of their plentiful resources and a burgeoning population can be found in the written accounts recorded by early settlers who encountered the Osage, revealing shocking reports of native people who stood well over six feet in height – some even seven feet – a fairly significant number considering the average male stood at 5'7". The Osage lived rather harmonious lives in surrounding villages, where their tribes were governed by a select group of elders who were responsible for their people's spiritual, physical, and emotional needs. Today, all that remains of their communal past are the 'rock cairns' or burial mounds where deceased members would be laid to rest under piles of stones.  Usually adorning this site would be the scalp of a sworn enemy, which would help them on their journey into the afterlife.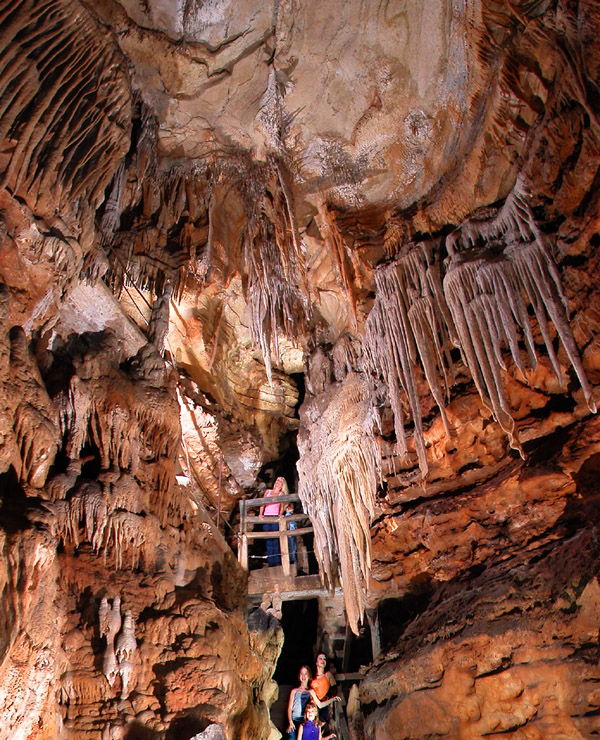 The descendants of this proud nation are still seen today in the Osage Nation, some 13,000 members strong, most of who live in Oklahoma, Kansas and Missouri. Tribal members remain connected to their roots by adhering to their artwork, language and cultural traditions.
Another unique feature of the Ozarks is the swaths of thick timber, miles of rivers and numerous caves. Marvel Cave (formerly Marble Cave), opened to the public by William Henry Lynch in 1894, helped establish Branson, Missouri as a permanent tourist destination, and it hasn't stopped there. Today, the cave is part of the Silver Dollar City theme park and open to visitors of the park. Another cave to explore, Talking Rocks Cavern (website) hosts a 50-minute guided tour of its dazzling caves. (Adults $17.95, kids 4 – 12 $9.95, under 4 free)
Branson Family Attractions
Branson prides itself on being a budget-savvy destination that accommodates those wanting a little break from the hustle and bustle of their everyday lives without taking out a second mortgage.  Enjoy the comfortable locations, the varieties of events, and especially the attractive low fares for those with children. The 1880s themed Silver Dollar City (website) fulfills childhood dreams for kids of all ages with more than 30 rides and attractions including Outlaw Run, a spectacular new wood rollercoaster. (Adults $62.34, Kids 4 – 11 $51.59). The nearby White Water park (website)  offers 13 acres of rides and slides (Adults $44.64, Kids 4 – 11 $37.94).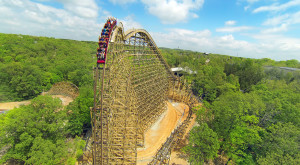 Golf, water sports, hiking, and fishing
Branson is a natural wonder with lakes and parks in abundance. Try the White River Valley Trail System in and around Table Rock Lake State Park. Another great area to explore is the nearby Busiek State Forest and Wildlife Area. If your motto is "have rod, will travel" then you won't be disappointed with the angling opportunities here. Get your fishing spot early by Lake Taneycomo. Mostly known for rainbow and brown trout, this man-made lake on the White River also stocks bass (largemouth & smallmouth) and bluegill. The Missouri state record brown trout was caught in Lake Taneycomo a couple of years ago, maybe you'll be the one to break it.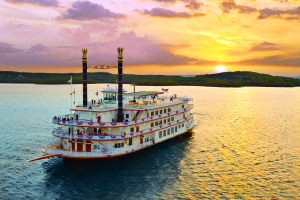 Where to Eat in Branson
Whether you are traveling with your elderly in-laws or the whole family, there are plenty of choices to be found in Branson. Starting at just $49, you can book a reservation on a dinner cruise on the Showboat Branson Bell (website) and enjoy a night of entertainment and fine cuisine. What about the little ones? Maybe those with a pickier palate? Not to fret, check out Billy Bob's Dairyland (1901 W. 76 Country Blvd, Branson), a great diner with huge burgers, milkshakes and a dozen varieties of fried pies, sure to please finicky eaters.  For those looking for a meal that's a little more upscale, try Level2 Steakhouse (Hilton Branson Hotel, 200 E. Main Street, website). Entrees range from $20 to $40 a plate as well as offering sophisticated menu options like a savory Kansas City Strip or pan-seared Duck Breast. Visit on Monday nights and build the "Ultimate Steakhouse Burger" starting at $5.
Where to Stay
The Cabins at Grand Mountain are family-friendly and an affordable option with rooms starting at $97 per night (2 day stays get 10% off, 4 day stays 20% off)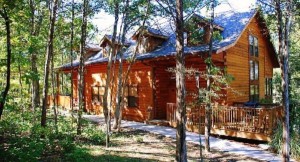 Indian Point Resort (website) offers three different choices for accommodations, from the Indian Point Lodge & Condos ($69 and up) to Trail's End Resort & RV Park ($65 and up) to the cottages at Eagle's View ($59 and up).