Branson MO Travel Guide
Although famous for small-town charm, Branson is bustling with year-round excitement. Spend the day visiting Branson's thrilling amusements or challenge your family to a go-kart race and mini-golf tournament! Unearth dinosaurs, sail the Titanic (safely, of course!) or get a snapshot with a wax replica of your favorite celebrity. Nestled within the natural splendor of the Mark Twain National Forest, Branson offers incredible outdoor activities as well as eight of America's lushest golf courses!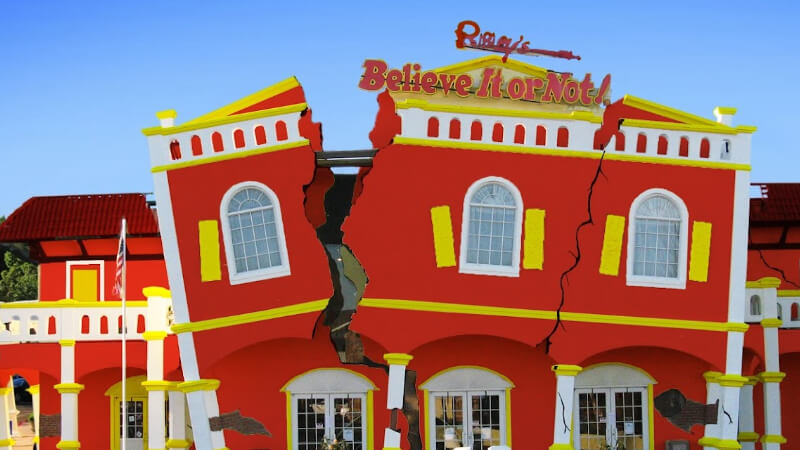 Considered the most unusual building in Branson, the 12,000-sq.-ft. Ripley's Odditorium is everything it's "Cracked Up" to be! Having recently…
As Branson is home to more than 50 theaters and hundreds of extraordinary musical, dance and comedy acts, you'll need the best Show Schedule available. With Sunny Day Guide in hand and online, you'll have the most complete and updated entertainment listings around! All of the most dazzling musical productions, awe-inspiring dance ensembles and outrageous comedy acts can be found here – many with valuable coupons too!
No matter how far you've traveled to get here, you're never too far from homestyle cooking in Branson. Whether you're treating the family to a deep-fried catfish dinner or a plate of savory BBQ brisket, an endless seafood buffet or the culinary theatrics of a Japanese steak house, dining in Branson is a feast for all the senses!
Every year, Branson is shared with millions of visitors. For the residents and folks who work in Branson, it's our pleasure to share this unique and special place with you. If you're a return visitor, Welcome Back! If this is your first trip to Branson, we know it won't be long until you too are planning your next trip… probably before you even leave Branson!
Branson has continued to change and grow over the years. New attractions, new live shows, new restaurants and new shops are all opening this year. Branson has so much to offer that you might find planning your perfect Branson day a bit overwhelming. Allow Sunny Day Guide to make planning each day a bit easier. Inside this book you'll find articles, profiles, show schedules, advertisements and coupons that will help you narrow down the best choices for your vacation.
Branson Restaurants
We mentioned earlier that there are many new things in store for Branson this year; well, here are few: Pasta lovers, rejoice… a giant attraction and restaurant in one, Pasghetti'sr. The two-story, 15,000-square-foot eatery is described as a little New York, a little San Francisco and a little Chicago in the 1920s, complete with subway car and trolley inside. Also opening in 2015 is Parakeet Pete's Waterfront Balloon at Branson Landing. This new attraction offers the thrill of a balloon ride with breathtaking views of Lake Taneycomo and Branson as it rises above Branson Landing.
Pasghetti's Restaurant and Attraction
Indoor Ferris Wheel, 8 different dining areas, and the world's largest fork and meatball. Those are all things you'll find at Pasghetti's Restaurant and Attraction! It truly is a one of a kind dining experience at Pasghetti's in Branson and I need to go back again just to check it all out because there is so much awesomeness.
Back in 2015 Pasghetti's opened its doors to a 2-story restaurant that can seat up to 400+ guests at one time. The most notable feature of the restaurant greets you before you even get inside. Walking through the world's largest meatball and fork is something every guest who dines at Pasghetti's can check off their bucket list!
When you walk in it's like being transported back to 1920's New York. Complete with a "Coney Island" on the second level (there is an elevator) where you can take a ride on a working Ferris Wheel while waiting for your dinner. This is on my must list if I get a chance to go back!
Each of the eight dining areas has a different vibe and decor so it's almost like eating somewhere new each time you come! Right now there are eye-catching Christmas trees throughout the restaurant including a massive one standing in the middle of the main dining room and a pretty pink tree that I need in my house.
If you love funky places, record-setting items, and Italian food then you need to get yourself to Pasghetti's in Branson. Walk through the meatball tunnel, take a ride on the Ferris Wheel and enjoy an affordable family meal that will leave you full and ready to take on your vacation adventures!
Branson Shopping
If shopping is your idea of fun, Tanger Outlets has answered your request for more stores. Opening in late 2014 were several more name-brand stores such as Helzberg Diamonds, Express, Pandora, and others. Throughout Branson, new shopping is added continually. Whether it's name brands you recognize or unique items you can find only in the Ozarks, Branson is truly a shopper's paradise. We suggest you check out the shopping section in this guide for ideas on where to shop while in town.
Top of the Rock Ozarks Heritage Preserve
One of the newest must-see destinations is Top of the Rock Ozarks Heritage Preserve. Top of the Rock is a passion project of Bass Pro Shops founder Johnny Morris. A visually stunning location that captures the outdoor beauty of the Ozarks, Top of the Rock has themed attractions, restaurants, and golf amid the outdoor splendor. The golf course is one of the area's best, featuring incredible panoramic views. On the grounds you will find several dining choices with fare from gourmet to laid-back "pub" food. If you're visiting Top of the Rock, leave time for the Lost Canyon Cave & Nature Trail and the Ancient Ozarks Natural History Museum, opening soon.
Branson Shows
Several new shows will open this year, including Puttin' on the Ritz at the King's Castle Theatre and The Hits show starring The Osmonds at Andy Williams Moon River Theatre. Other big-name stars will join names already appearing at various Branson venues throughout the year, including Yakov Smirnoff, the Oak Ridge Boys and Billy Dean. To learn more about the live shows taking center stage in Branson during your visit, check out the entertainment & nightlife section of this website.
Fireman's Landing
Lastly, we cannot talk about new things in Branson this year without mentioning Fireman's Landing at Silver Dollar City. Silver Dollar City debuts 10 new family adventures in 2015! Centered around the headquarters of Station No. 3, Fireman's Landing is designed in the style and theming of an old-time volunteer firefighter recruitment fair, with activities set up to test the skills of even the youngest would-be recruits. The nearly 2-acre area will include rides and amusements for the whole family.
Branson Family Attractions
And remember, all your favorites are still here: the Titanic Museum Attraction, Hollywood Entertainment Center, The Track Family Fun Parks, Ripley's Believe it Or Not!® Odditorium, Promised Land Zoo, Legends In Concert, Acrobats of China, Pierce Arrow, and Grand Jubilee along with dozens of other entertaining shows, great shopping, tasty restaurants, three pristine lakes, nature trails and so much more! Now that we've shared some of the new things to experience this year, plus all the favorites, let us be your guide!
Getting around Branson
Getting around Branson does not have to mean sitting in traffic. Use the map in the back of this book to plan your route. The main roads in Branson are color-coded to make it even easier to find your way. If you're headed into Historic Downtown Branson, you'll find a map specific to this area inside the guide as well. The downtown area is going through a multi-year revitalization process that will make this area even more vibrant… so please pardon our progress. Before you head out for your fun-filled Branson vacation day, check the coupon section of this guide.
Branson Attractions & Activities
Adventure Ziplines of Branson
501 N. Wildwood Drive, Branson 417-239-3030
Branson Dinosaur Museum
3619 W. 76 Country Blvd., Branson 417-239-0733
Branson Meadows Cinema 11
4740 Gretna Road, Branson 417-332-2884
Branson Military Museum & Historic Firearms Exhibit and the National BB Gun Museum
3615 W. 76 Country Blvd., Branson 417-239-0719
Branson Visitor TV – Channel 5
566 Gretna Rd., Suite E, Branson 417-335-8474
Branson Zipline Canopy Tours at Wolfe Creek Preserve
2339 US 65 Walnut Shade, Branson 417-561-2500
Branson's Wild World
2020 W. Hwy. 76, Branson 417-239-0854
Brookside Miniature Golf
2925 Shepherd of the Hills Expy., Branson 417-334-1262
Butterfly Palace & Rainforest Adventure
4106 W. Hwy. 76, Branson 417-332-2231
Castle of Chaos
3030 W. 76 Country Blvd., Branson 417-337-8700
Dinosaur Canyon Golf
2501 Green Mountain Dr., Branson 417-332-0887
Dixie Stampede Dinner Attraction
1575 W. 76 Country Blvd., Branson 800-520-5544 417-336-3000
Grand Country Farm Mini-Golf
1945 W. Hwy. 76 , Branson 417-335-2454
Grand Country Fun Spot
1945 W. 76 County Boulevard, Branson 417-335-2454
Grand Country Indoor Mini-Golf
1945 W. 76 County Boulevard, Branson 417-334-3919
Hannah's Maze of Mirrors
3030 W. 76 Country Blvd., Branson 417-337-8700
Harold Bell Wright Museum
3609 W. Hwy. 76, Branson 417-332-1499
Henning State Forest Scenic Lookout
Historic Downtown Branson
119 W. College Street, Branson
Holiday Hills Golf Club
630 E. Rockford Drive, Branson 417-334-4838
Hollister
2298 U.S. 65 Business, Hollister
Hollywood Wax Museum
3030 W 76 Country Blvd., Branson 417-337-8277
IMAX® Entertainment Complex
3562 Shepherd of the Hills Expy., Branson 417-335-4832
Kimberling City
Missouri 13, Kimberling City
Lakeside Wilderness
2498 Fall Creek Rd, Branson
Lost Treasure Golf
3346 W. Hwy. 76, Branson 417-332-0889
Parakeet Pete's Waterfront Zipline
1111 Branson Landing, Branson
Pirate's Cove Adventure Golf
2901 Green Mountain Dr., Branson 417-336-6606
Ride The Ducks
150 Promenade Way, Branson 877-887-8225
2320 W. Hwy. 76, Branson 877-887-8225 417-266-7600
RIDEMAKERZ®
903 Branson Landing, Branson 417-336-4001
Ripley's "Believe It or Not!"®
3326 W. Hwy. 76, Branson 417-337-5300
Shepherd of the Hills Trout Hatchery
633 Hatchery Rd, Branson 417-334-4865
Shoot for the Stars Mini-Golf
3110 W. 76 Country Blvd., Branson 417-337-8700
Splash Country Indoor Waterpark
1945 W. Hwy. 76, Branson 417-335-3535
Stone Hill Winery
601 State Highway 165, Branson 417-334-1897
Table Rock Dam and Lake
Table Rock State Park
5272 State Highway 165, Branson 417-334-3069
Talking Rocks Cavern
423 Fairy Cave Lane, Branson West 800-600-CAVE (2283) 417-272-3366
Titanic Museum Attraction
3235 76 Country Blvd., Branson 800-381-7670 417-334-9500
Track Family Fun Parks, The
3388 Green Mountain Drive, Branson 417-334-1612
Veterans Memorial Museum
1250 W 76 Country Blvd.,, Branson 417-336-2300
Wolfe Creek Photo Safari Guided Walking Tour at Branson Zipline Canopy Tours
2339 Hwy. 65, Walnut Shade 417-561-2500
Wolfe Creek Preserve – Home of Branson Zipline
2339 US 65, Walnut Shade 417-561-2500
World's Largest Toy Museum
3609 W. Hwy. 76, Branson 417-332-1499
Xtreme Racing Center
3600 W. Hwy. 76, Branson 888-345-1710