St Louis is home to a variety of activities attractions, & events for all ages.  Situated near the point of confluence of two of the major rivers in America, the Mississippi and the Missouri River, St. Louis is the largest metropolitan city in the state of Missouri. This city holds the honor of hosting the first-ever Olympic Games held in the USA in 1904 and has also served as the venue for the World's Fair held in 1904. St. Louis lies halfway between the east and the west coast of America and due to its strategic location, is often referred to as the 'Gateway City' since many of the wagon trails used by the early inhabitants to cross over to the west pass through the city. Here's everything you need to know about visiting St. Louis, Missouri.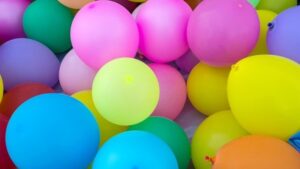 How to Make Balloon Rainbows There is nothing we love more then when we see a project on Pinterest that gets our creative minds humming….

The city of St. Louis is well connected to the rest of the country via its airports, rail services, and a plethora of bus services. The Lambert-St. Louis International Airport is the largest of the three airports present in the city and handles most of the domestic as well as international traffic. The MidAmerica St. Louis Airport is mostly used by smaller airlines because of its distance of 25 miles from the city and the St. Louis Downtown Airport is meant to serve the commercial interests of the city. The public bus transportation system consists of MetroBus and Madison County Transit facilities within the city and Greyhound bus services for traveling to other cities. St. Louis is home to one of the largest light rail networks in America in terms of usage and provides its travelers with a unique travel experience routed through age-old tunnels and subways.
Top Free Things To Do In St. Louis
As a major tourist destination, a visitor may enjoy many of the major attractions in St. Louis without having to pay an entry fee and some of those destinations are listed as follows:
The St. Louis Zoo is a part of the Forest Park and is home to more than 22,805 species of rare and endangered animals from habitats all over the world. Although surrounded by rolling hills, grasslands and lakes, one of the major attractions of the zoo is the penguins happily residing and frolicking in their corner 'Penguin and Puffin Coast'.
The Tower Grove Park is an ancient park spread over 289 acres and its main features are ponds that are lively with goldfish and colorful with lilies, pavilions, bandstand, and classical Victorian ruins from the 19th century.
The Old Courthouse located in downtown St. Louis is conspicuous because of its green dome and offers a treat for theatre lovers as the famous Dred Scott slavery trials along with other well-known cases are enacted here.
Purina Farms is an entertaining destination for animal lovers because it offers animal demonstrations along with living pet displays and hands-on activities.
A visit to the St. Louis Science Center is a fun-filled educational experience for the entire family as it imparts valuable knowledge about fossils and dinosaurs and takes one on a journey to outer space through its planetarium. The famous adage 'speed thrills but kills' is not applicable to The Science Center where one can easily speed on the highway in a car with the help of a radar gun.
The Municipal Opera commonly referred to as The Muny, is one of the oldest and largest outdoor theatres in America which offers free tickets to all of its seven musical shows.
The Laumeier Sculpture Park consists of shady walkways and wooded areas dotted with an astonishing and surprisingly large collection of modern art sculptures.A remarkable free spot in St Louis is the World Bird Sanctuary, in which one can enjoy a feeling of intimacy with nature in the company of eagles, owls, and hawks. It is a dream-come-true for environmentalists who can avail the 305 acres of the sanctuary for picnics and hikes.
The St. Louis stretch of Old Route 66 consists of the historic Old Chain of Rocks Bridge which is supposed to have been the original crossing point to the west over the Mississippi River and is therefore also referred to as The Mother Road.
At the Missouri Historical Museum, one can embark on a journey into the city's past through a two-gallery, an interactive exhibit titled 'Seeking St. Louis' which not only throws light on the city's earliest days but also on Lindbergh and World's Fair which were held in 1904.
Spending a holiday in St. Louis can prove to be a unique experience, as is evident from the following list of things that one can do in St Louis:
It is a must for every tourist to take a tram ride to the very top of the Gateway Arch, which is the tallest man-made monument in America with a height of 630 feet. This venue offers additional attractions in the form of a giant screen for movies and documentary films.
A visit to the Missouri Botanical Gardens gives one an insight into the different types of foliage existing on our mother planet, ranging from the tropical rain forests to the layout of a typical Japanese garden named Seiwa-en. Since the 79 acres of the landscape was established in 1859, it is dotted by various historic and elegant buildings, the most noteworthy of them being Henry Shaw's Victorian home.
Cahokia Mounds is a relic of an ancient city situated north of Mexico that belonged to the Indians between 700 and 1400 A.D. Tourists on an excursion would come across exhibits and dioramas highlighting the Mississippian culture, traditions, and artifacts.
Cathedral Basilica of St. Louis boasts of the world's largest collection of mosaic art, a glimpse of which is enough to take one's breath away.
Paying a visit to Anheuser-Busch brewery would enable an individual to gain knowledge about Budweiser Clydesdale lager. The venue is complete with a brewhouse, a lager cellar and a packaging plant along with a shop in the same name for marketing its products.
The Challenger Learning Center is an epitome of scientific space research and offers to educate visitors on the subject through hands-on space simulation programs.
St. Louis is famous for the Wild Canid Survival and Research Center, which is a captive breeding facility for endangered species of North American wolves and foxes, African wild dogs and South American maned wolves. This center was established by Marlin Perkins in 1971. These animals are released in the wild after bringing them up in a natural habitat within the campus.
Cruising on the Mississippi River on a moonlit night accompanied by live music and specialty dinner could be the most memorable romantic experience for a visitor. Daily cruises across the Mississippi River on paddle wheelers named after legendary American characters like Tom Sawyer and Becky Thatcher are strongly recommended.
Forest Park is one of the largest urban parks in America. Its entire area of 1,371 acres offers a wide range of activities like biking, jogging, skating, sitting in a theatre and experiencing the interior of a greenhouse.
A trip to St. Louis would be incomplete without a visit to Grant's Farm, which is a wildlife sanctuary consisting of a petting area and holding of animal shows.
Best St. Louis City Center Hotels
St. Louis City Center Hotel
St. Louis City Center Hotel & Suites is a beautifully appointed hotel in the heart of downtown. The historic flavor of this 1929 landmark building combines with modern comforts to create a unique experience with something for everyone.
St. Louis City Center Hotel & Suites
400 South 14th Street St. Louis, Missouri 63101
314-231-5007
St. Louis Hotels – Hilton Frontenac
This hotel in St. Louis is only a block away from the shopping mall, Plaza Frontenac and it's a 12-mile west area downtown. These were designed suggesting such an elegant type of country house, although they are looking much like that of Bourbon St. then the Bordeaux. Yet, the suburban shuttles with that of its French twist providing such a very nice service and magnificence in their audience.
The Hilton St. Louis Frontenac has a round drive-thru passage, fountain and a porte-cochere which was the style of the Georgian era with the turret greetings arrival stepping the 2 story floor lobby with it still look of a Palace Versailles. Here, the delicate balcony and the arch type stairways complementing the panel walls, they also have an elegant chandelier and their artificial colorful flowers. Their renovations lately are very evidently seen, in spite of the traditional apparel. The magnificence of the place stop at their café entrance, having a very noisy television, aged furniture's and the bar emerging the dim lights. There is the dining room serving 3 meals, with the candlesticks and the very elegant table setups.
The Hyatt Regency of St. Louis
They are categorized being a very atypical St. Louis hotel, being a good option on a business as well as the recreational tourists. The Hyatt Regency hotel occupies that of city's very prominent building – a very impressive railway transit built way back 1894 – this is really a very stunning place to visit showcasing this terminal. They are dominating a part of the railway terminal, which is already a dining place, shopping mall as well as an entertainment area.
The hotel's grand hall, which is the terminals waiting for an area before, is already a very elegant lobby inside, with its astounding 65 feet barrel vault, roman architecture designed arches, paintings that have been highlighted with a golden leaf and the lounge beautifully created.
The dining area is located in the oak-paneled type restaurant, the bar does entertain several guests and locals too. There is an improved comedy club, highlighting those acts; it's from Wednesday till Saturday. Their large outdoor swimming pool doesn't get much sunlight. Alternative leisure activity does include a sauna and the exercising area.
The St. Louis Omni Majestic hotel
St. Louis Omni Majestic hotel is located near the Busch Memorial Stadium, also with the center for convention and that of Gateway Arch, they've been categorized as the best boutique type hotel, outclassed those hotels with their well-integrated guest room. They were built on the year 1914, being a nine story renaissance type hotel that has been a national landmark providing many creaky type charms or apparels although few in facilities.