Dolly Parton's Dixie Stampede opens its 18th season, taking the rivalry up a notch, high into the treetops, with the new Rumble in the Treetops lumberjack competition! The new feature showcases the strength and agility of skilled lumberjack teams as they climb, chop, saw and log-roll their way through a four-event relay.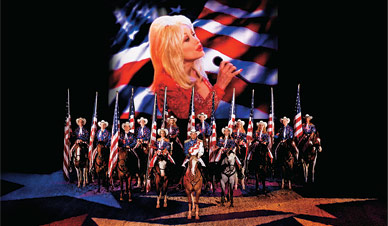 Logging is a key part of Branson's history. Over a century ago, logs were cut and floated up the White River to Branson, where they were taken off and processed into ties for the Transcontinental Railroad as well as for wagon spokes and pencils.
"The new Rumble in the Treetops lumberjack competition at my Dixie Stampede is a really fun way to showcase a bit of history," said Dolly. "And to see those log-rolling lumberjacks toss one another in the water is the best part of all!"
First is the tree climb, a race to the top of a tall pine. Next is the two-man crosscut, with teams battling to saw through a giant log. In the third leg, the lumberjacks rely on accuracy and sheer muscle as they split a log in an ax chopping competition. In the final leg, the burly lumberjacks square off in an old-fashioned log roll. The first to lose his balance splashes in the drink! The winning lumberjack team collects medals for each leg of the relay.

Rumble in the Treetops is part of the friendly rivalry between the North and the South, which includes trick riding, barrel racing, Roman riding, and more. Guests are encouraged to arrive an hour before the main arena spectacular to stroll the beautiful Horsewalk and enjoy the Carriage Room Show, all of which is included in the ticket price.
About Dixie Stampede Dinner Attraction
Dolly Parton's Dixie Stampede is a unique dinner and show experience set in a giant 35,000-square-foot arena featuring 32 magnificent horses, a stampede of buffalo, thrilling horsemanship, romance, comedy, and audience participation, all showcased in a friendly rivalry between North and South and complemented by a fabulous four-course feast.
Dixie Stampede Dinner Attractions operate in two popular vacation destinations: Pigeon Forge, Tennessee and Branson, Missouri. For more information regarding show times and ticket prices, call 1-800-520-5544 or visit online at www.dixiestampede.com.
Dolly Parton's Stampede
1525 76 Country Blvd, Branson, MO 65616
(417) 336-3000
Dixie Stampede takes the rivalry up a notch, high into the treetops! The exciting new feature "Rumble In The Treetops" lumberjack competition showcases the strength and agility of skilled lumberjack teams as they climb, chop, saw and log-roll their way through a four-event relay. Owner Dolly Parton guarantees it's "Branson's Most Fun Place to Eat!"