The Midwest's Most Awarded Winery – More than 3,400 awards since 1993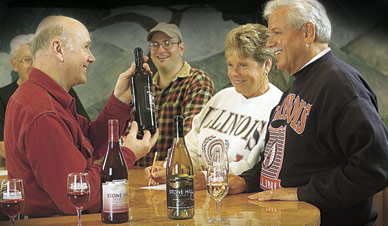 If you're a newcomer to Branson, you may be surprised to find Missouri's oldest and most awarded winery as one of the town's most popular attractions. With 12,000 square feet of space, Stone Hill Winery's Branson location has been receiving and entertaining visitors since 1986. The winery, located at the junction of Highway 165 and Green Mountain Drive (just two blocks south of Business 76), delights thousands of tourists daily with a free, fun-filled hour of touring. Tasting Stone Hill's many award-winning wines completes your experience.
You'll be guided through the huge winery complex where you can witness the step-by-step winemaking process. First, you'll watch a short film, which depicts the proud tradition of Missouri winemaking and focuses on the vineyards and cellars of the winery's main headquarters in Hermann, Missouri. Next, you can soak in the delightful aromas of maturing Sherry, which is first baked and then aged in oak casks. You will then be invited to watch the actual bottling process of Stone Hill's famous Spumante wines.
Your tour ends in one of six tasting rooms where you can sample your way through an array of Stone Hill's award-winning wines and juices. The wines range from the dry, full-bodied Norton, a red wine that has captured international recognition, to the sweet and fruity Pink Catawba and Concord. Whether you are a serious connoisseur or just an occasional wine sipper, you are bound to find your perfect wine in the broad spectrum of Reds, Whites, Rosés, Spumantes and Dessert wines. After the tasting, you can browse through a wonderful selection of quality wine-related items in the winery's gift shop. If time is of the essence, not to worry. Tours and tastings can be customized to fit just about anybody's time constraints. So, if you're in a hurry and you don't have time for the tour, you can go straight to the tasting. We aim to please.
Branson is all about entertainment, and Stone Hill Winery is no exception. Our customers come here expecting to be entertained, and we go out of our way to provide a tour that is educational, interesting, and most of all, fun.
Hours: Monday – Saturday 8:30am-dusk; Sunday 10am-6pm. Phone: 417-334-1897 or 888-926-9463.
Website: www.stonehillwinery.com
Stone Hill Winery
South of Hwy. 76 at Hwy. 165 & Green Mountain Dr.
417-334-1897
Enjoy an hour of winemaking. Bring the family for a free tour of their winery. Get a historical view of the process of winemaking. Visit with their bottler as he carbonates and bottles their Spumante. Sample the award-winning wines; juice for the kids. Open year-round, 8:30am-dusk; Sun. 10am-6pm.
They have an expanded winery showroom. A paradise to shoppers looking for unique gifts and keepsakes. Beautiful ways to store, serve and chill wine. Hats, shirts and sportswear. Treat yourself to fine wine, glassware, meats, cheeses, crackers and other appetizers to complement your wine.