Titanic's Accidental Hero: The real Margaret "Molly" Brown Story
You may have heard the story about the girl from Hannibal, Missouri, who went out West, married a poor miner in Leadville, Colorado, then lived life to the hilt after striking it rich. Her name was Margaret Tobin Brown, a wonderful, unsinkable force of nature who just happened to be on Titanic when it crossed paths with that iceberg.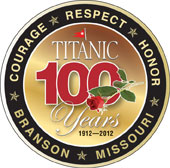 It's true that Brown entered Lifeboat No. 6 but only after helping other women and children into boats. She also took up an oar and rallied other women to do likewise. She stood up to the boat's assigned officer and would later be hailed a Titanic hero for her bravery.
But that's the Margaret Tobin Brown of legend. The "Molly" Brown of myth is quite another story. For one thing, great-granddaughter Helen Benziger told me Margaret was never called "Molly" in life. That name came from The Unsinkable Molly Brown, a 1960 hit Broadway musical based on Brown's life and made famous by the 1964 Hollywood movie adaptation starring Debbie Reynolds.
The Titanic Museum Attraction in Branson, Missouri, now protects Brown's legacy under great-granddaughter Helen's direction. For the first time anywhere, come explore Titanic's new Margaret "Molly" Brown Gallery and its authentic collection of items from this incredible woman's real-life experiences.
Officially dedicated by Helen on March 22, 2012, the gallery displays possessions of Titanic's most famous passenger and her descendants. An Egyptian statue from 700 B.C. first caught my eye. Thought to have magical powers, it's valued at $60,000 today. Other treasures include delicate lace from Brown's time in Switzerland and a prized secretary desk and hutch from Newport, Rhode Island. From The Unsinkable Molly Brown movie, we also have the beaded green gown worn by Debbie Reynolds for you to sigh over.
And now, under the watchful eye of Branson's Titanic Museum Attraction, there's a special gallery devoted to Margaret Tobin Brown, where her real story can be found at any time.
And I'll be right there to greet you.
www.titanicbranson.com
Titanic Museum Attraction
Toll Free: 800-381-7670
3235 W. Hwy. 76 Country Blvd.
417-334-9500
Onboard the giant, ship-shaped attraction, visitors become part of the 100-year-old drama that unfolds during a fantastic 90-minute voyage. USA Today says, "The Titanic Museum Attraction is not to be missed." More than 5 million visitors agree.