Branson museums offer a wide variety of educational encounters that are historical and patriotic, as well as entertaining and extraordinary.
Titanic Museum Attraction
3235 W. Hwy. 76 Country Blvd.
417-334-9500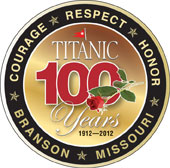 The world's largest Titanic Museum Attraction resides in Branson. History comes alive in unique and mysterious ways aboard Branson's Titanic, a two-story, half-scale replica of the ill-fated ship. Housing priceless artifacts in 20 galleries, the museum soars 100 feet above the "76 strip." Anchored in water, the Titanic Museum's self-guided tour reproduces many experiences of the passengers onboard Titanic's 1912 maiden voyage. Climb a replica of the elegant Grand Staircase, touch an iceberg, tour first-class staterooms, and much more. This season's major exhibit will introduce visitors to the eight heroic musicians who continued to play as the great ship went down.
Visit the permanent, interactive Titanic Museum Attraction in Branson, MO. Walk the grand staircase, steer the ship, learn to send an SOS signal, or touch an iceberg. Kid friendly. A 2-hour walk-through experience. New gallery in 2014: Tribute to the Musicians. "…once is not enough!" – USA Today.
World's Largest Toy Museum
3609 W. Hwy. 76
417-332-1499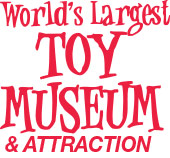 The World's Largest Toy Museum, "where memories unfold and the imagination abounds!" creates a completely different historical experience. Filled with over one million one-of-a-kind toys and attractions from the 1700s to today, the museum includes a British Embassy Rolls Royce, a 1935 replica of Dickens' A Christmas Carol, 1800s carriages, Star Wars items and GI Joes. The gift shop offers unique toys from yesteryear.
Wonderful toys from the past and into the future! From ships, planes, trains, cars, motorcycles, cap guns, BB guns, pedal cars, bicycles, tin wind-ups, dolls, Disney, Star Wars, G.I. Joes, trucks, toy soldiers and Hopalong Cassidy to Shirley Temple, Howdy Doody and Donald Duck. Toys from the 1700s to today. A must-see in Branson!
Harold Bell Wright Museum
3609 W. Hwy. 76, next to White Water
417-332-1499
In the same building is the Harold Bell Wright Museum, featuring memorabilia from one of the most famous authors in American literature. Enjoy a 27-minute video depicting the life and times of Wright, who wrote Shepherd of the Hills – the acclaimed novel that spawned vast interest in Branson and distinguished Wright as the first American author to sell over one million copies of a book.
See Harold Bell Wright's original manuscript of The Shepherd of the Hills, his gun collection, woodworking tools, original paintings and much more. Experience the 27-minute movie about Harold Bell Wright and his influence on the history of Branson.
Branson's Hollywood Wax Museum
3030 W. 76 Country Blvd.
417-337-8277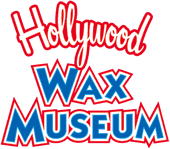 Want to get up close and personal with your favorite stars? Branson's Hollywood Wax Museum, with exhibits of current and past TV and movie stars, makes it possible. Rub elbows with current stars like Gwyneth Paltrow, Johnny Depp and Jamie Foxx; or stand side-by-side with classic entertainers such as Elvis Presley, Marilyn Monroe, Charlie Chaplin and John Wayne. Every detail is fine-tuned to enhance the lifelike qualities of these A-List wax figures. Discover hot tips about the stars and shop at the Studio Store. Fun for all ages!
If you love movies and want to rub elbows with your favorite stars, step onto the red carpet at the Hollywood Wax Museum! Take "selfies" with A-listers and get the scoop on their pets, pet peeves and accomplishments. You'll marvel at the realistic wax likenesses. Fun for all ages!
Ripley's Believe It or Not® Odditorium
3326 W. Hwy. 76
417-337-5300

Beyond extraordinary to somewhat bizarre is Ripley's Believe It or Not® Odditorium. From the world's biggest ball of twine to a real shrunken head, there are stops at the Roman Colosseum of Emperor Vespasian made from 1,971 ordinary playing cards, a two-headed calf, and an Aboriginal ancestor face mask. These are just a few of the more than 400 exhibits and artifacts in seven uniquely themed galleries on an amazing self-guided experience. For a thrilling interactive experience, "The Spinning Vortex" is just the ticket. Robert Ripley, considered to be the real-life Indiana Jones, traveled the world for over 40 years seeking strange items to amaze, astound and amuse.
Odd is in… Take it from the experts! Enjoy 8 galleries filled with an ever-changing collection of over 450 unique artifacts, unbelievable art, crazy illusions and wacky interactives. Experience the amazing world of Robert Ripley! Then ask yourself if you "Believe It Or Not!"
Veterans Memorial Museum
For the patriotic, a stop at the Veterans Memorial Museum, where veterans of all American wars and conflicts are honored, is a must-see. Displayed in numerous halls are more than 2,000 artifacts and exhibits, representing all branches of service and spanning the wars of the 20th century, including WWI, WWII, Korea, Vietnam and the Persian Gulf. A bronze sculpture tribute to World War II soldiers is a centerpiece of the museum's impressive collection. Images are modeled after an actual serviceperson from each of the 50 states.
Dewey Short Visitor Center
Dewey Short Visitor Center near Table Rock Dam, off Missouri State Highway 165, is a beautiful 15,000-square-foot facility that features an auditorium, gift shop and educational area for exhibits and conference rooms. Part of the exhibit experience is a breathtaking view of the lake.
Ralph Foster Museum
Nearby at College of the Ozarks, the Ralph Foster Museum highlights Native Ozark legend and lore, an impressive collection of weaponry, and the original Beverly Hillbillies car. Also, Bonniebrook, the rebuilt home of Kewpie originator Rose O'Neill, is located north of Branson on Highway 65 and displays her illustrations as well as the Kewpies that took the world by storm in the 1900s.