Table Rock Lake is a perfect vacation destination this spring season as the lake is best known for great fishing, scuba diving, swimming, parasailing, and boating. At Table Rock Lake you will truly experience ultimate fun with its several outdoor activities and watersports adventures. With tons of attractions and activities in the lake, residents and visitors alike will be delighted to learn that the lake was created during the damming of the White River in 1958. Along the lake, there are dozens of scenic spots such as the beautiful wooded hills below the Ozark mountains, the natural shoreline, and bluffs which are very much preserved by the area's conservationists and environmentalists.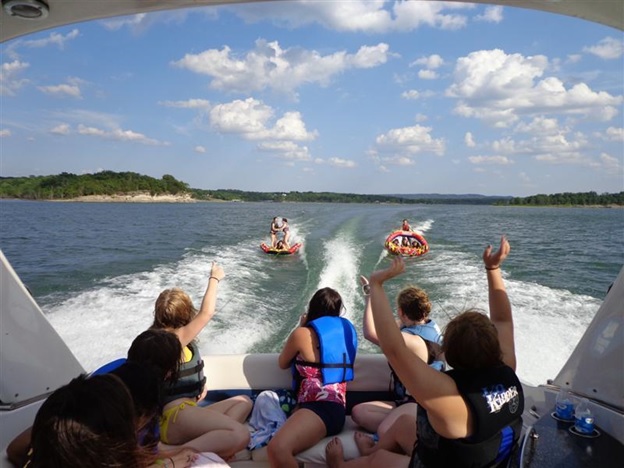 Table Rock Lake covers a vast area of 52,300 acres and 750 miles of shoreline. The lake is abundant with bass, crappie, and large bluegill. The lake is also called a bass fishing lake and features public marinas and area resorts that provide information about fishing, boating, and scuba diving. These area resorts and marinas can help you get a fishing guide to help make your water sports adventure full of fun. If you are one of the fishing enthusiasts visiting Table Rock Lake, you can join the local and regional fishing tournaments which are regularly held here every year.
The resorts and marinas in the lake feature dozens of restaurants that serve boaters. In the lakeside, there are also many restaurants that serve delightful treats. Inside these restaurants, you can grab ready-to-eat food and other things you need for your adventure while you are refueling the boat. The Kimberling City along the Table Rock Lake also features marinas that have restaurants that offer fine dining. These fine restaurants offer delectable treats from casual to home favorites and offer great shows in the evening during weekends.
After you have enjoyed many exciting water sports activities at Table Rock Lake, you may like to experience an exciting river cruise aboard the Showboat Branson Belle (a beautiful paddle wheeler riverboat). While aboard this fantastic Showboat, you can have the opportunity to view the natural beauty of the lake. After spending a refreshing and relaxing moment on the boat deck, you will be guided to the dining room to be served an elegant meal with live onboard entertainment.
In the lake, you will surely enjoy never-ending fun as the place features countless interesting places that offer many great outdoor activities and watersports adventures. Table Rock Lake features over 100 resorts to choose from that are ideal for families who want to have a wonderful spring vacation. The Branson side of Table Rock Lake is the most preferred spot for visitors to stay as this lakeside area offers easy access to exciting attractions and world-class live entertainment shows in Branson's entertainment district.
If you are searching for a nice vacation place where you can find tons of activities and watersports adventures, visit Table Rock Lake in Branson this spring season.