Citygarden is truly a unique oasis in the middle of downtown St. Louis. It is a three-acre park that combines beautiful landscaping with modern elements – including sculptures and water features.  It is part of the Gateway Mall, a mile-long stretch of green space in downtown St. Louis.  The park is focused on being green and sustainable with rain gardens, green roofs on the buildings to maximize efficiency and decrease runoff, local ingredients used in the café, native plants, and more.  This park has something for everyone – fountains and sculptures for kids to run around and play on, a place for families to picnic or eat at the café, walkways for couples on a stroll or sculptures for art lovers to enjoy!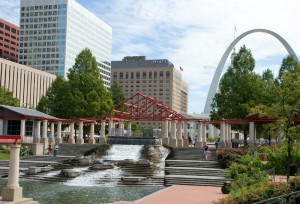 Some of the things to see at Citygarden
A 6 ft waterfall and spray plaza for kids to play in, with 102 nozzles shooting water into the air with different patterns and colors
24 sculptures designed by internationally renowned artists, all open to kids to climbing on and explore
Six rain gardens and numerous fountains
The Videowall, a stone wall that stretches two blocks that display video art and movies
Audio tour narrated by almost 30 St. Louis celebrities, including Ozzie Smith, Kurt Warner, Jenna Fischer, Jackie Joyner-Kersee, and John Ashcroft
Terrace View Café, with indoor and outdoor seating and an amazing, gourmet menu featuring local ingredients (check out their lunch and dinner menus, they  will make your mouth water!)
Beautiful landscaping with native trees and plants
The Citygarden has similar regulations as all St. Louis parks – it opens at sunrise and closes at 10 pm. There are no fences or walls, it is free and open to everyone all year round.  This is truly a great place for everyone to enjoy and a must for visitors who want to experience all that downtown St. Louis has to offer!  Click here to view more photos of the garden or to read about how much one mom's kids loved playing in the park!